Dr. Ippisch is the Most Trusted Dentist in Santa Cruz, CA
When it comes to finding a dentist that provides exceptional care and understanding in the Santa Cruz area, look no further than the dental office of Dr. Ippisch. Located near the Capitola Mall and within driving distance of Capitola, Live Oak and Soquel, Advanced Dentistry offers general and cosmetic dentistry services to clients of all ages.
Your dental health is important to us. Regular dental care is vital to maintaining good oral health and our Santa Cruz dental office is ready to serve. Whether you need to have a cavity filled or discuss dental implants to replace missing teeth, Dr. Ippisch and his dedicated staff are here to help.
If you have just moved to the wonderful Santa Cruz area or you're live in the nearby suburbs, Advanced Dentistry can provide a full range of dental services to meet your needs and keep you smiling long after you visit our dental office.
Our full-service Santa Cruz dental office offers veneers, dental implants, composite fillings, bridges, crowns, dentures, tooth whitening and more. There's no time like the present to get the smile you've always dreamed of with Advanced Dentistry. We look forward to serving you and your family at our state-of-the-art dental clinic.
Call our Santa Cruz Dentist Today at

(831) 476-3200

for Your Appointment.
While you are receiving your dental treatment, our staff will offer you a variety of soothing extras such as cozy comforters, neck pillows, dark glasses and stereo headphones.
Voted "Best Of" GOOD TIMES Santa Cruz, CA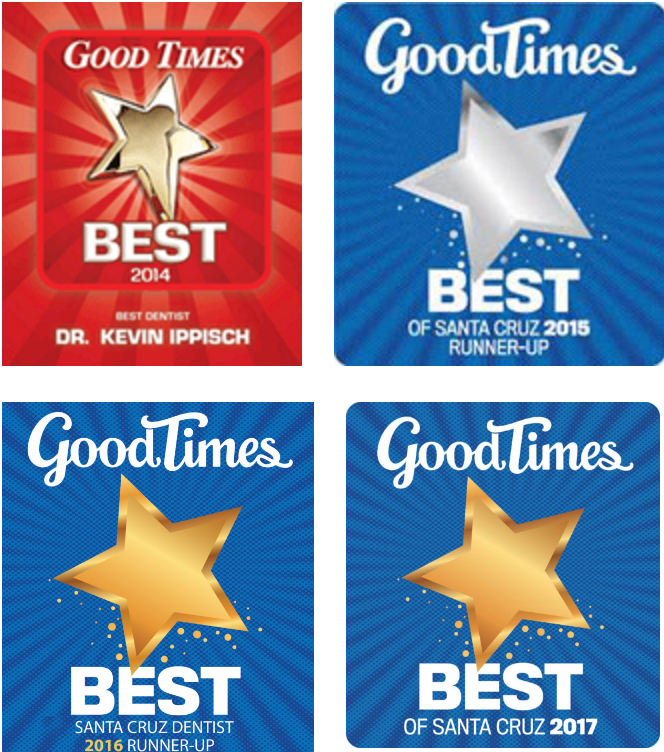 Why Choose Advanced Dentistry?
Dr. Kevin Ippisch has been providing family dental care in the Santa Cruz area for over 30 years and has been voted GOOD TIMES Santa Cruz "Best Dentist" in 2014, 2015, and 2017.

We offer a preventive program, which is a cooperative effort by the patient, dentist and dental staff to preserve the natural dentition and supporting structures by preventing the onset, progress, and recurrence of dental diseases and conditions.

We work with dental implants, composite fillings, porcelain veneers and lumineers, crowns and fixed bridges, and are able to improve your teeth and smiles with quick, painless and surprisingly affordable treatments.

We offer many options for restoring a tooth back to its normal shape, appearance and function through root canal therapy, inlay and onlay restoration, and complete and partial dentures.

We are skilled in periodontal diagnosis and offer state-of-the-art treatments of periodontal disease. Our registered dental hygienists can help you maintain the health of your gums and teeth through regular dental cleaning procedures and by educating you about a good oral hygiene and a balanced diet.
Painless perfect dental hygiene

"I was graded "A" by Tricia after exam of all my dental pockets, and there was no bleeding in my gums, thanks to following Tricia's advice on daily brushing, flossing, and using mouthwash daily. All tea stains were quickly removed by Tricia. The condition of my teeth and gums has improved 100% since I became a patient of Dr. Ippisch and of Tricia, the dental hygienist. I am grateful for the excellent care and instruction I receive at Dr. Ippisch's office."
Hard to find a really good dentist

"As Gary Radnich says, I've lived a little. As I've moved around the USA for 70 years, I've had the pleasure and misfortune to have been treated by a wide variety of dental engineers. One in particular stands out. A Hawaiian dentist, he once had a patient with a very bad reaction to novocain. As a result, none of his patients got a pain killer after that. In contrast, Dr. Ippisch's dental customers don't even feel the needle when he numbs a tooth… That is rare and very much appreciated!"