Most Trusted Santa Cruz Dentist
Whether your dental needs are a complete exam and cleaning, a full-mouth restoration, or anything in between, as a leading dentist in Santa Cruz, CA we promise to provide you with exceptional care as we enhance the natural beauty of your smile.
Looking for a Gentle and Caring Family Dentist?
Watch the video and read what our patients say.
Voted "Best Of" GOOD TIMES Santa Cruz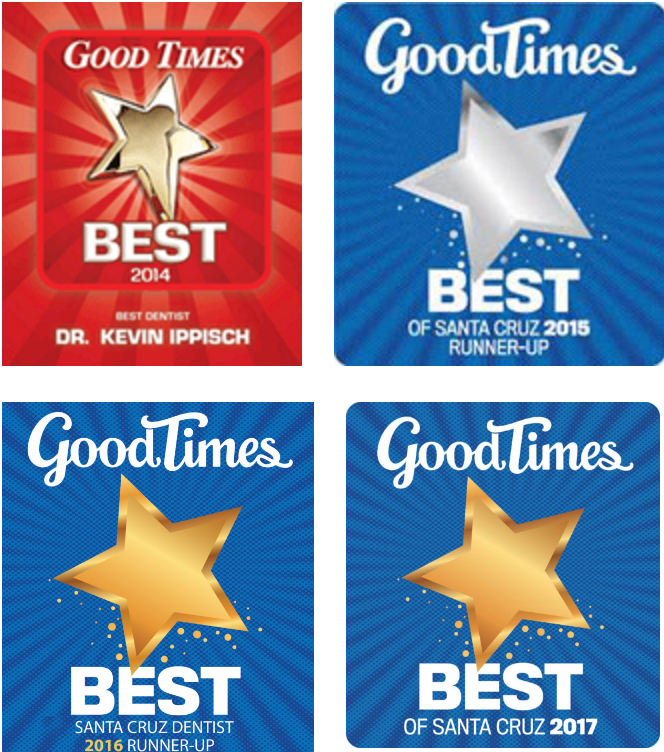 Why Choose Advanced Dentistry?
Dr. Kevin Ippisch has been providing family dental care in the Santa Cruz area for over 30 years and has been voted GOOD TIMES Santa Cruz "Best Dentist" in 2014.

We offer a preventive program, which is a cooperative effort by the patient, dentist and dental staff to preserve the natural dentition and supporting structures by preventing the onset, progress, and recurrence of dental diseases and conditions.

We work with dental implants, composite fillings, porcelain veneers and lumineers, crowns and fixed bridges, and are able to improve your teeth and smiles with quick, painless and surprisingly affordable treatments.

We offer many options for restoring a tooth back to its normal shape, appearance and function through root canal therapy, inlay and onlay restoration, and complete and partial dentures.

We are skilled in periodontal diagnosis and offer state-of-the-art treatments of periodontal disease. Our registered dental hygienists can help you maintain the health of your gums and teeth through regular dental cleaning procedures and by educating you about a good oral hygiene and a balanced diet.
Painless perfect dental hygiene

"I was graded "A" by Tricia after exam of all my dental pockets, and there was no bleeding in my gums, thanks to following Tricia's advice on daily brushing, flossing, and using mouthwash daily. All tea stains were quickly removed by Tricia. The condition of my teeth and gums has improved 100% since I became a patient of Dr. Ippisch and of Tricia, the dental hygienist. I am grateful for the excellent care and instruction I receive at Dr. Ippisch's office."
Hard to find a really good dentist

"As Gary Radnich says, I've lived a little. As I've moved around the USA for 70 years, I've had the pleasure and misfortune to have been treated by a wide variety of dental engineers. One in particular stands out. A Hawaiian dentist, he once had a patient with a very bad reaction to novocain. As a result, none of his patients got a pain killer after that. In contrast, Dr. Ippisch's dental customers don't even feel the needle when he numbs a tooth… That is rare and very much appreciated!"